A Man of the Field
Forming the New Church Mind in Today's World
Volume 1: Reformation
The Struggle Against Nonduality
Volume 2: Enlightenment
The Spiritual Sense of the Writings
Volume 3: Regeneration
Spiritual Disciplines For Daily Life
Volume 4: Uses
The New Church Mind In Old Age
By Leon James, November 2002. (draft 17c)
A "field" means doctrine (AC 368)
A "man" signifies faith and truth (AC 427; 4823)
Buy this book. Volume 1: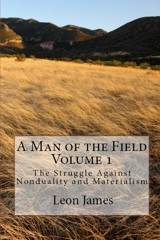 The author, Dr. Leon James, is Professor of Psychology at the University of Hawaii. His Web site and information on his professional background is located here: www.soc.hawaii.edu/leonj/leonj/leonpsy/leon.html
A directory of articles and books by Leon James, with full text access is available here: http://www.theisticpsychology.org/leonarticles.htm
For comments and questions, I welcome your email:  leon@hawaii.edu 
The Web address of the latest version of this document is:  www.theisticpsychology.org/books/nonduality/nonduality-toc.html
I wish to thank Dr. Ian Thompson for his invaluable editorial assistance with several drafts and for supplying many of the citations to the Writings (see Note 12 above ). I also wish to thank Rev./Dr. Ray Silverman who spent much appreciated effort reading and critiquing an earlier draft (see Note 21 above). Rev. Robert Junge made critical comments on several key issues that greatly improved my discussion of them. I am very grateful for their contribution. Their astute observations helped me to avoid critical errors and to strengthen the presentation in numerous places.
| | |
| --- | --- |
| AC | Arcana Coelestia |
| AE | Apocalypse Explained |
| AR | Apocalypse Revealed |
| BE | Brief Exposition |
| CL | Conjugial Love |
| CORO | Coronis |
| DE VERBO | De Verbo |
| DLW | Divine Love and Wisdom |
| DP | Divine Providence |
| D. WIS. | Divine Wisdom |
| EU | Earths in the Universe |
| FAITH | Doctrine of Faith |
| HH | Heaven and Hell |
| INV | Invitation to the New Church |
| LETT | Letters |
| LIFE | Doctrine of Life |
| LJ | Last Judgment |
| LJP | Last Judgment (Posthumous) |
| LORD | Doctrine of the Lord |
| NJHD | New Jerusalem and Its Heavenly Doctrine |
| SE | Spiritual Experiences |
| SPECIMEN | Specimen and Sketch |
| TCR | True Christian Religion |
| TCR Additions | True Christian Religion (Additions) |
| WH | White Horse |
| 9Q | Nine Questions |
The Web site includes a search engine and a key to the Bible. It also carries many articles on Swedenborg and the New Church: http://www.theheavenlydoctrines.org